Services
We are providing following services
Need 24/7 Support?



Website Development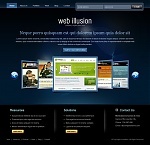 Since the mid of 1990s, web development is the faster growing industry all over the world. Before 1995 near about 1000 web development industry in the United States only, however by 2005 there were more than 30000 companies. By 2010 web development company will probable to grow more than 20%. The progress of the industry is being backed by large business aspiration to sell product and service to their clients and creating the computerize business workflow.

Now this time cost of Web site development and hosting has vividly go down. At these days's development of a simple website can done within thousand dollars, depending on the intricacy and number of content. Nowadays small Web site development companies are able to make web design available for both smaller companies and individuals are enforcing additional fueling to the growth of web development companies.

Synergy Soft is providing services for website designing & development, Search engine optimization services, e-commerce online solutions and much more to satisfy with the needs of both small and large businesses. Our principle towards achievement lies in brings high quality products to our targeted addressees and go halves their valuable information on keep hold of their valuable clients. All of our client database replicate the work we have done successfully and we accomplish the client satisfaction by providing them 24/7 support via email, phone, chat etc. we provide our clients professional Website Design , Web Programming, logo and corporate Identity, Quality assurance, offshore Software Development, internet Marketing, Flash Presentation and SEO service.
Our main website delopment arena:
- Content Management Systems (CMS)
- E-Commerce Shopping Carts
- Customized Website Development (e.g. Online Support System, Loyality Cards Programe etc)
- PHP
- ASP
- Joomla
- Wordpress